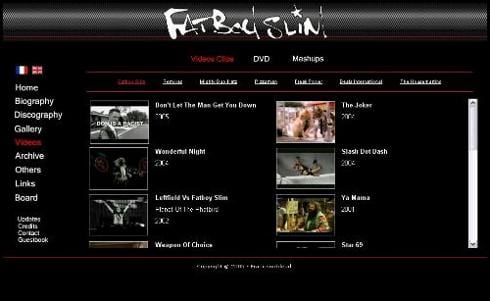 Website in December 2005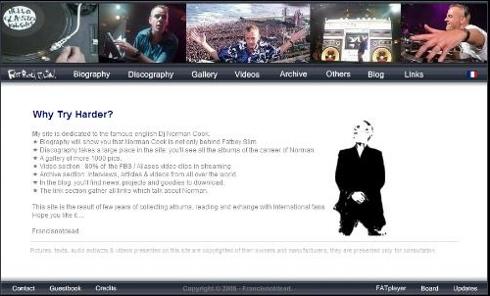 Website in January 2006
2006: one year of development of a FAT encyclopedia
Probably boosted by my experience at the brixton academy gig of the 16 december 2005, i decided to develop an international fan website as we never seen. During this year, i learned flash , php and created a blog. It's crazy how a passion can give you energy to learn, exhange and communicate. If you told me in december 2005 that my website will contains more 3000 pics, 250 streamings videos, 350 pages and a little interactivity blog (for a total of 2,8 Gigas of datas! ), i think that i simply not believe you. Normancook.info have a average of more 100 different visitors by days (& 30 differents visitors by days for the blog)
I received lot of mails to support me. I met lot of fan and the list of people that i have to thanks is long.
The design of Normancook.info
I tried to do a cool interface in flash, all the difficulties was to change the menu with sections. Maybe its a too serious design, don't know if you like it. I never received bad feelings or observations about that.
A flop forum
The installation of a forum was a mistake, i though that it was possible to develop a FBS community. Unfortunately, i quickly realised that i talked to a wall (or only to 10 or 20 people

). This feeling was amplified by the activity of the official FBS Forum. I understand that FBS community is not so large! .
May 2006: FBS remixed
Again an other flop. Remember: it was a site who contains remixed fbs tunes by members of the official forum. Online in may / june 2006, this mini website, based on a blog structure, was visited by only 10 people by… weeks.
June 2006: revolution
After several days of research, i found the solution to present streaming video on the site and how integrate them on the site. I remember how i was proud. I found the way to made a very cool website and develop the archive section.
July 2006: time of doubts
Arg july is on the hand a bad month and in the other hand a good month. I explain: it's the month when i was completly fed up of the official fbs forum and my admin functions: spams, no really constructive posts, stupid discuss with dcdj who wanted to hack the forum. Members who decided to leave the forum. Mails who treat me of make money with my uploads of sets!.
So why waste all this time? It's 'cause i thought to purpose live sets in download will provocate other members to upload and purpose others maybe unknow live sets, enjoy discuss about tunes played by FBS… I was happy to see some members purpose their help but damn: what a pity, instead of wake up the forum, its made me a legendary uploader and someone who hate DCDJ ect… . In the same way, july was the month when i mailed alot skint records to ask them to boost the forum and purpose news, exclusivities: no answers.
But July is the born of The FND's blog.
Give the po' man a break
The flop of the blog "FBS remixed" was instructive, i saw that made a blog is not so difficult. I decided to think about a interactive blog and finish to waste my time in Official FBS Forum.
The FND's Notebook
I decided to test the blog 'cause i saw that its exist other international FBS fans who wants to keep the FBS scene alive . The blog is good for purpose live sets and tracklists of the summer. I decide to keep an eye on FBS forum.
Second time of doubts: september 2006
I want to close the blog and stop all my FBS projects . In fact, i planned to stop all since a long time. The death of Francisnotdead was programmed to october. It was my primary objective for personal reasons. I think its THE moment to stop: i can't continue like that.. it's became an obsession lol . A last look on The FBS Forum: it's a ..calamity: bugs, bots.. and skint which do nothing except to ask me to nominate DCDJ as admin! = the final point of my animation on the forum. I think that today: Official FBS Forum is dead 'cause 60% of their members are bots or phantom members (no posts). And when sometimes it wake up: 4 people "talk" in it :( . I have to stop , there is no way.
October 2006
As usual, i changed my opinion. Finally, i think "it's stupid to stop all now, your site is not finished, fbs fans are sad and write you". Damn, i created a monster! , i can't resist and continue my FAT way. The future of fatboyslim.org will be a sort of collectors club and real fans, no need to waste time to convert people who don't know and hate FBS.
November to today
It's decided, with the help of crazylonghair and woka77, we can continue a little the adventure of www.fatboyslim.org and especially the FND's notebook. With the crash of the server the 10 November 2006, i realize that i intoxicated more 15 people who read the blog all days as their homepage.
The future of www.normancook.info
Nothing is fixed today, all that i can tell you: normancook.info will be sill alive in 2007! (as Francis, i hope lol )
The design would have to change, i'll see

.
Special Thanks to:
thejoker
Fatmoy Slim
Mr Frog
Filter
Aero
Salvamea
Miss Frenchie
Veinar90
Stefano
CowbOy
Velvet
DashIt
TiMMaz
Acidchildren
Urban
Crazylonghair
Vanessa
Funker
CraigK
Micke
John
jURRIE
Sun Hunter
Superfantastisch
SlickPeteFlash
Woka77
Fatboy_seb
BigBadBaz
Blake
Dean
Peel
Borsuczy
Rolf
DCDJ
Jeanie
u.n.k.l.e
JosSse
fqboy
Tim
vambo
Mark Wilkinson
sarah
My web hoster (even if all that cost me alot ! )
And all those that i forgot…