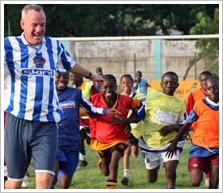 by Nils van der Linden
Fri, 30 Nov 2007
"Dance music isn't at its peak at the moment," Norman Cook says, rather wistfully, from his Brighton beachfront home on the south of England.
"Five years ago it was breaking rules and turning people on who didn't like dance music — rock bands wanted to get involved, and people were excited."
"Since then we've kind of lost our momentum a little bit. When big beat came around in the '90s it gave dance music a kick up the arse, with groups like Daft Punk and Chemical Brothers," adds the man better known as Fatboy Slim.
"We're treading water a bit at the moment so I'm trying to do something different."