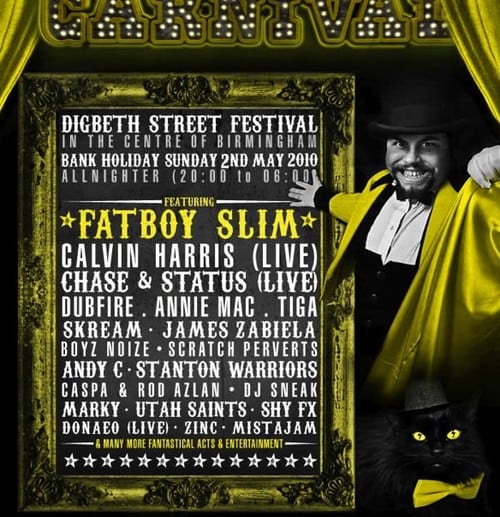 Ladies and Gentlemen…. Eclectricity are proud to present the weird and wonderful world of the ELECTRIC CARNIVAL…. Following the recent "Electric City" series of events in Autumn 2009 which attracted 12,000 people over an 8 week period and 6 sell out Eclectricity Boutique Festival events over the last 3 years each attracting upto 4,000 people across the entire Custard Factory Complex…. We are proud to showcase the Eclectricity festival experience taken to another level as we claim the streets of Digbeth for an Inner City Carnival of epic proportions…..
This time, we are sealing off half of Digbeth!….The Entire Custard Factory Arts & Media Complex will be utilised in conjunction with Air Superclub as well as the quirky Rainbow Venues to make for 15 rooms of action packed shenanigans and a capacity of over 9,000!!
DEBUT OF THE NEWLY LICENSED DIGBETH CAR PARK SPACE
This includes the grand debut of the Digbeth Heath Mill Lane Carpark space used in a way that has never been seen before… A festival standard mainstage structure will be placed in this unique and industrial space…. Expect the whole of Digbeth to come alive as the Electric Carnival takes to the streets for this one off experience!
The Electric Carnival is an inner city musical playground utilising the many wonderful spaces and stunning architecture that can be found in Digbeth's prime alternative entertainment district!!
Area 1: MAIN STAGE (OUTDOOR)
FATBOY SLIM
CALVIN HARRIS (LIVE)
CHASE & STATUS (LIVE)
PETE JORDAN
+ VERY SPECIAL GUEST TO BE ANNOUNCED !
Venue: The Grand Debut of Digbeth Car Park (to the rear of Air Nightclub)
[…]
More details: www.theticketsellers.co.uk