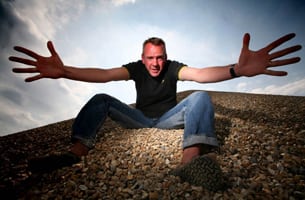 Exclusive Fatboy Slim podcast
June 7th 2006

On this week's Times Podcast hear Steven Dalton talk to Fatboy Slim, aka DJ Norman Cook.
Norman gives Pete his own comprehensive guide to his upcoming greatest hits album Why Try Harder. "The title is a statement not a question," asserts Cook, in what is a unique and hilarious trip down memory lane.

Find out what inspired hits such as Praise You, Right Here, Right Now and Rockafella Skank, plus hear clips from more than ten tracks, as well as the brand new single, That Old Pair of Jeans.
source: Times Online