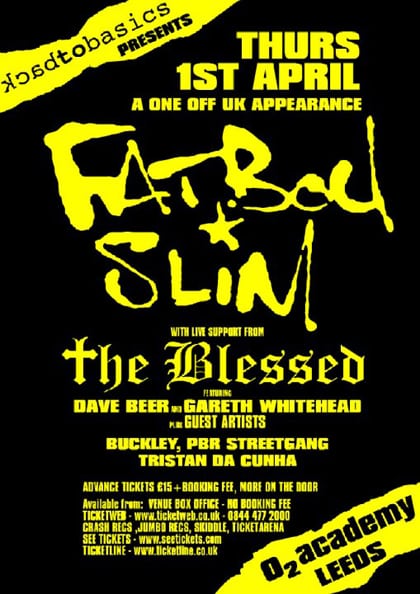 Fatboy Slim is set to go back to his roots to celebrate Leeds' longest running and legendary club night, Back To Basics at O2 Academy Leeds on Thursday 1st April 2010.
Since the early '90s, Basics has been a clubbing institution, with the infamous promoter and founder Dave Beer at the helm, lauded for throwing parties quite like no other.
"I haven't DJ'd out since New Year's Eve, so looking forward to a session before I head out to the Far East for some shows," says Fatboy Slim. "It's always a treat to play one of Dave's gigs, getting right in with the dancefloor. You never know, you might hear some of the new album, so looking forward to seeing you all."
This is a chance to see Fatboy Slim and guests up close and personal at O2 Academy Leeds before he takes to the main stages at Glastonbury, Rockness (Scotland), Clapham Common (London) and Giants Park (Belfast) later this year.
Tickets are priced at £15, To buy tickets, click here.
source: egigs.co.uk
Special thanks to obeseboyslim