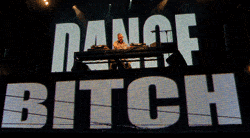 Fatboy Slim is tipped to make a return to the shores of Loch Ness in 2008 to headline the Highland music festival he started two years ago.
Online chatrooms and websites about Rock Ness are circulating rumours that the DJ, real name Norman Cook, will headline the two-day event at Dores, on June 7 and 8.
Also tipped to headline one night are infamous dance act Prodigy, whose singles include Firestarter and Smack My Bitch Up. Other acts being mentioned to appear are Faithless and Underworld.
Fatboy Slim launched the first festival – then lasting just one day – in 2006.
It attracted 20,000 fans to the Loch Ness-side village for performances by Skye-born Mylo, Radio One's Carl Cox and Slam.
This year's event was expanded to two days, with 35,000 people attending each day. The Chemical Brothers, Daft Punk and the Manic Street Preachers all appeared.
But there was also controversy when Paul Litterick, a 39-year-old company director from Dundee, was found dead in his car after a suspected drugs overdose.
In September, Cook vowed to appear at the 2008 festival. He said at the time: "I was a little miffed I was not invited back to do the second RockNess. I figured it was my idea, so I thought I had claimed Loch Ness in the way I claimed Brighton beach, but apparently not.
"I was very disappointed. I apologise to everyone who thought I would play, but there is a strong likelihood I will be back next year."

source: www.thisisnorthscotland.co.uk