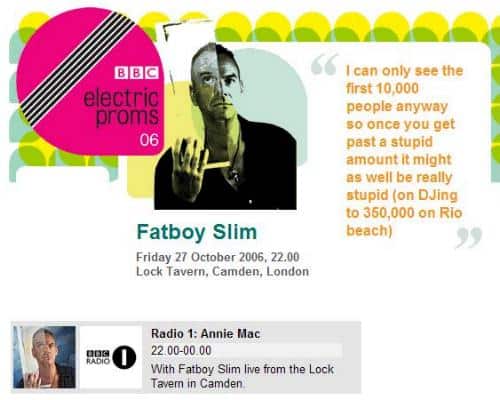 Party with the king of the Big Beat with Fatboy Slim Electric Proms tickets
Legendary producer and DJ Fatboy Slim is performing an exclusive set at BBC Electric Proms, a unique London live music festival. In radical departure from the norm Fatboy Slim Electric Proms tickets are completely free, giving fans the chance to party with the man himself in an intimate, exclusive gig.
Fatboy Slim, live in Camden
He might be used to spinning tunes for crowds of thousands at a time, but Fatboy Slim's Electric Proms gig will be jumping off in the slightly more modest environs of the Lock Tavern in Camden. The upstairs room of the pub will be centre stage to an exclusive Fatboy set.
Free tickets
The venue isn't exactly the Ministry of Sound and as such, Electric Proms organisers have decided to allocate tickets for free. A lucky audience of only 100 people will be bopping to the sounds of Fatboy Slim in October. Further details on winning a free ticket will be explained on BBC Radio 1 in October.
Join the party
Fatboy Slim Electric Proms tickets are in heavy demand for a chance to see Norman Cook do what he does best in a truly exclusive gig. The show promises to be one of many highlights in Electric Proms 2006. Prepare for something special from a true dance legend, performing live and loud in Camden. Electric Proms 2006
Electric Proms is a huge live music festival featuring a line up of contemporary music stars. The Fatboy Slim gig is one of a number of free events guaranteed to be charged with a party atmosphere on the night. For further information on Electric Proms click here.
Fatboy Slim will perform at the Lock Tavern, Camden, on Friday 27th October, starting at 10pm. Fatboy Slim Electric Proms tickets are free. Details of winning a ticket will be explained on BBC Radio 1 in October.
source: www.viewlondon.co.uk & www.bbc.co.uk