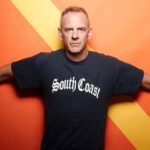 DAILY STAR
27th April 2013
By Kim Carr with James Cabooter
FATBOY SLIM praised No1-bound French robot music pioneers Daft Punk for giving dance music a kick up the arse.
The superstar DJ reckons the Get Lucky hitmakers have made the last great, all-star dance record by working with disco veterans Nile Rodgers, 60, and Giorgio Moroder, 73.
Fatboy, aka Norman Cook, 49, told me: Im so impressed by them. Its a breath of fresh old- skool air. The EDM thing has become a collection of huge noises that sound the same and are a bit bland.
Im glad Daft Punk have given us all a kick up the arse. They are so simple and melodic.
Theyre the last great dance music supergroup youll hear.
Norman thinks the duos upcoming Random Access Memories is so good its put him off making a proper Fatboy Slim album.
He will be hooking up with a few of Daft Punks collaborators, including Rodgers, at Ibizas Inter- national Music Summit next month.
Due to pick up the IMS Legends award, he said: Pete Tong and Carl Cox have had it so Im in esteemed company.
IMS has grown from an add-on to the Ibizan season into a firm part of the calendar.
It means you get to play the old town on May 23 theres a space perched right in the middle. It has fantastic views of the island.
Visit internationalmusicsummit.com for more on IMS featuring Sven Vath, Maya, Nile Rodgers, Idris Elba and more in Ibiza between May 22-24.
source: Daily Star