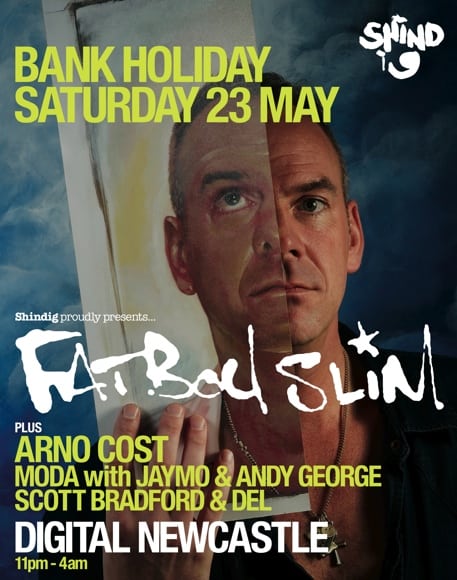 SHINDIG: BANK HOLIDAY SAT 23rd MAY – FATBOY SLIM / ARNO COST / MODA with JAYMO & ANDY GEORGE / SCOTT BRADFORD / DEL / SCOTT UDBERG
Shindig are very proud to have been confirmed as one of only two exclusive UK club appearances as he fine tunes his sonic armoury before trotting the globe smashing the summer festival circuit to pieces.
Just when you thought our May listings couldn't get any better we go and announce a rather special event for the Bank Holiday Weekend…Globally-recognized for turning out massively infectious crowd-pleasers that tear up clubs, festivals and sun soaked beaches alike Fatboy Slim is something of a phenomena.
Multi platinum selling artist – Festival headliner – Champion of the Hawaiian shirt and all round nice guy Mr Slim has always placed the emphasis on hedonism over experimentalism.
We've been a long, long way together………….. don't miss this!!

Committed to bringing you the most upfront house music talent, Shindig welcomes rising international star Arno Cost for his debut appearance in Room 2. As one of the hottest DJ/Producer's to come out of France over the last 12 months, Arno truly defined his style with the monster hit "Magenta" – heavily supported by Steve Angello and Sebastian Ingrosso. He continues to assemble a heavy CV of roof raising remixes for likes of Toolroom and CR2 all consistently bolstered with Arno's undeniable melodic gifts and uplifting intuition
if that wasn't enough, The Terrace Bar is visited this week by Scott Udberg, who besides making a habit of dispensing the deeply measured and subtle side of house and techno to Newcastle's underground scene, will be stretching his legs for 5hrs of unrestricted tasteful vibes.
SHINDIG: BANK HOLIDAY SAT 23rd MAY
FATBOY SLIM
ARNO COST
MODA – JAYMO & ANDY GEORGE
SCOTT BRADFORD
DEL
Doors : 11pm – 4.00am
Advance Tickets : £15 + BF
Ticket Info : Ticketweb – http://www.ticketweb.co.uk/user/?region=gb_northeast&query=detail&event=321043
Tel: 07875 410673 (Shindig) 0191 2619755 (Digital)
Membership and More Info – www.shindiguk.com
Official Pre Club Bar at Tokyo , Westgate Rd.
Text queue jump requests to 07875 410673 along with your name and amount of spaces needed.(List closes 9pm Saturday)
www.shindiguk.com
www.myspace.com/shindiguk
www.shindiguk.com/blog
www.myspace.com/fatboyslim
www.myspace.com/arnocost
source: www.shindiguk.com/blog/2009/04/19/shindig-proudly-presents-fatboy-slim/