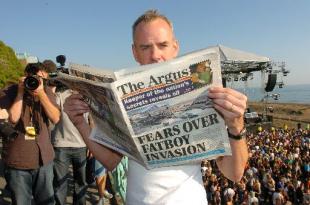 The Argus, 14th January 2009.
By Lawrence Marzouk
Fatboy Slim will return to Brighton for his fifth Big Beach Boutique party.
Brighton and Hove City Council has earmarked September 4 and 5 for the latest of the DJ's seafront gigs.
In a report to Councillor David Smith, cabinet member for culture, the council has confirmed plans to close Madeira Drive for the event.
A separate report to the council's cabinet will be drafted once full details are received.
A licence will also need to be approved by councillors.
Organiser Loud Sound has told police it will cut the number of revellers for future events and rearrange the site following safety concerns at the 2008 gig.
source: theargus.co.uk
Special thanks to errorup