Hear the globe-trotting DJ's new album, and the myth behind his project with David Byrne and Iggy Pop
CHRISTOPHER R. WEINGARTEN
Jan 28, 2009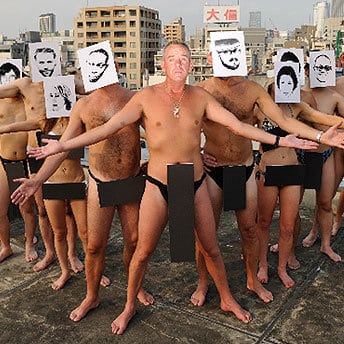 According to legend — or the story Norman Cook is spreading — the Brighton Port Authority were a loose assembly of likeminded musicians recording in the 1970s whose tapes were recently discovered and dusted off for release. "It's sort of like the Traveling Wilburys but good," says Cook, best known as globe-trotting DJ and producer Fatboy Slim. In truth, Cook assembled the tracks on the BPA's debut I Think We're Gonna Need A Bigger Boat from informal collaborations with artists like David Byrne, Iggy Pop, U.K. rapper Dizzee Rascal, Canadian folkie Martha Wainwright and a bevy of up-and-coming British singer-songwriters. "The basic scenario is that someone comes to my house, we get quite drunk and go, 'Let's go into the studio next door and make a tune,' " says Cook. "And then we completely forget about it the next day."
Cook's longtime engineer Simon Thornton discovered the tapes, which Cook says go back 15 years (the official bio says they date back to the '70s since the actual specifics are lost to time and alcohol; that would make collaborator Jamie T negative-seven years old at the time of recording, though). Thornton felt some of them were good, likening the long-forgotten projects to forever-delayed masterpieces like Brian Wilson's Smile. Though Cook adds, "When we were going through the tapes, a lot of it was absolute dogshit." The duo picked the best tracks and re-tweaked them into riotous pop record reminiscent of classic Fatboy big-beat hits and contemporary Gnarls Barkley kitsch-pop.
Hear the whole album right here, and keep reading for a hilarious Q&A with Cook:
You say that you had forgotten that some of these tapes existed. Are there any sessions you don't remember at all?
The track we did with Martha Wainwright. I'm like, "We did a track with Martha Wainwright?" Some of it we couldn't actually identify who the artist was … The most difficult bit was just wading through hours and hours of absolute bollocks. We had to listen to an awful lot of rubbish. It's literally two and half weeks of tape.
Do you remember the session with Iggy Pop?
Yeah! Out of our houseguests he was one of the more polite and genteel. I met him in Miami years and years ago ago. I was just scraping my head off the floor going, "Iggy … Pop … You? … Are … My — What are you doing here?" He was a consummate professional. Weirdly enough that was one of the most sedate sessions of the whole album. Who would have thought?
What was the David Byrne's session like?
Well I've worked with David for about two years writing a musical … about the life of Imelda Marcos. We wrote 22 songs together and one day I said, "Can we do a song that isn't about Imelda Fucking Marcos?" The rest of them were narratives about her life. DB had really researched everything about Imelda and been to the Philippines … The story is not about the shoes. We had a rule that we didn't mention the shoes.
When is the musical due?
Talk to D.B. about that. My job is writing/arranging, which I finished about a year and half ago. But he's still trying to put this stage show together and get the right vocalist to sing it. I was trying get him to sing it, but he said, "I can't be Imelda Marcos." Fuck it, you've worn the big suits, I've seen you do stranger things than that!
Were David Byrne and Dizzee Rascal ever in the same room together for BPA track "Toe Jam"?
No, no! We finished it and Dizzee heard it. I bumped into him at a photo session and he went, "I wanna be on that record. It's gonna be a hit and I wanna be on it. Find me 16 bars and put me on it." So we kind of glued him onto it. He's from a rough part of South London, and if I hadn't he probably would have had his mates come 'round and kneecap me.
Were you there for the taping of the "Toe Jam" naked-party video?
Didn't you see my cameo? Three quarters of the way through, you'll notice someone with a very, very, large? Whoever pays for the video gets the biggest schlong. I was the only one who actually did it naked! The rest of them had those flesh thong things on. I thought I'd freak them out. You can actually see them laughing. Fuck it! Watch this swing 'round!
So, where have you been the last four years?
I've been doing a huge amount of really big parties. We've got this beach party thing. We're not allowed to do it in America, but we've done it pretty much everywhere in the world. We did 360,000 in Rio on the beach. I've got like six jobs, I can really only do one at a time. I'm a DJ, a producer, a remixer, an artist, a record company owner, a restaurant owner. I can only focus on one at a time.
source: www.rollingstone.com