Today, the website is 1 year old.
You've come a long way, Baby
With the creation www.fatboyslim.new.fr, i never though that i could have created such a cool website ..
The www.fatboyslim.new.fr was so little and basically all in French lol .. I was the only visitor by day of it.. The project started with a joke: nobody of my French friends knew Fatboy Slim.. Fat Boy What? What's that?
I decided to make a website to inform them ..and to be educated about how to create a website. With the construct of the site, i discover more and more about Norman, his evolution, his career, and become very interested by collecting articles / mags / promo albums.. it was in September 2004
In December 2004, my project grew bigger, i wanted to make the First french site about Norman.. i knew that it exist already, www.fatboyslim.fr.st but the site was not updated since 2002…

fatboyslim.org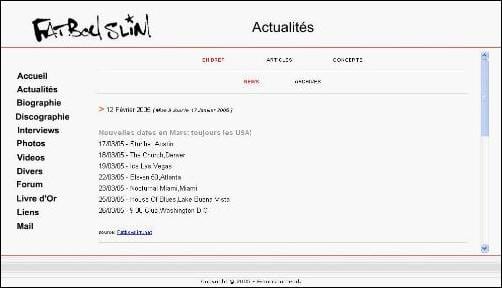 The fatboyslim.org in February was again in french and in a white version

I decided to choose the name of fatboyslim.org , a cool address which will explain what my website contained.
But to continue it only in French became impossible: So I decided to make it in 2 languages : french / english to inform more people: The big problem: my bad english writing (like you can already see in this text lol)
Hopefully, i meet lot of cool people in the FBS forum like thejoker.. Slashdotdash or Mr Frog who taught me to learn and correct my english , illustrate my website ect…
Today, when I look back after after 1 year: Woah!… an average of 25 international visitors by day / a unknow number of pics (i think there are more 3000 lol ) , more 30 videos on streaming ..
And since a week: the install of a new board… I cannot possbile count the hour i wasted to made this website …
The better thing is that i haven't already finished my website !!! More than 100 docs of my personal collection are sleeping in archive and waiting to be scanned… Some sections have again, not enough detail…
To resume : 2005 was a big FAT year for me lol i made a good website / meet cool people / become a FAT Moderator on FBS Forums (and since November : assistant admin) .. and in 2 days, i will be at Brixton to see Norman LIVE!!!
To conclude: if you have a passion: let it grow up.. with that you can meet cool internationals people / learn english / waste your time.. Enjoy life!
But remember that a passion sometimes has a price

Project for fatboyslim.org: staying alive again 1 year!