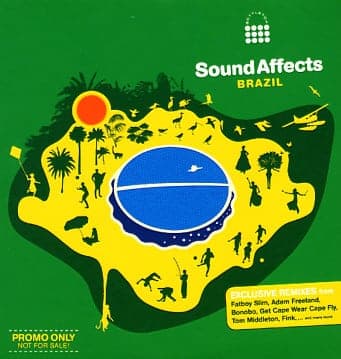 Bottletop, one of the most forward thinking and exciting charities in the UK have collaborated with Mr Bongo Recordings, Europe`s leading importer of Latin American music, to bring you Sound Affects Brazil.
Following on from the Africa album (MRBCD045), this, the second in the Sound Affects series focuses on the beautiful musical soundscape of Brazil, spanning their rich and varied musical spectrum.
No artist or remixer has been paid for their input. It has been made with love and good will, in the knowledge that it will make a real difference to the children who need it most. All proceeds from this album will be going towards youth sexual-health education in Brazil, so you really have no excuse not to buy it! Find out how you can make a real difference: www.bottletop.com. Registered charity no. 110 1118
The music, primarily from Brazil, and dating back as early as the 1960s, features legends such as Tenorio Jr and Os Novos Crioulos as well as their contemporaries Bazeado and Mr Hermano.
The tracks have been lovingly remixed by internationally renowned DJs and producers such as Fatboy Slim, Bonobo, Get Cape Wear Cape Fly, Adam Freeland and Jazzanova, as well as an amazing special bonus track dontaed by Beverley Knight. Available as a 2 disk set: originals and remixes.
Tracklisting:
CD1 Originals
CD2 Remixes
1. Mar Afunda- Os Novos Crioulos (Bonobo remix)
2. Amazonas-Batida Do Corpo (Fatboy Slim Remix)
(extract)
3. Toda Tercafeira – Soul Quality Quartet (Jazzanova)
4. E Isso Ai- Paula Lima (Get Cape Wear Cape Fly)
5. Uruba no Telhado – Bazeado (MJ Cole)
6. Cosinha II – Dom Um Romao (Yam Who)
7. Injecao – Deise Tigrona (Adam Freeland vx Stereotyp)
8. Nebulosa -Tenoria Jr (Nu:Tone)
9. Segunda Feira- Bazeado (Bungle)
10. Goya- Marcelo Salazar (Zero PM)
11. Capoeira Love Affair -Mr Hermano (Tom Middleton)
BONUS TRACKS: Salvador -Beverley Knight (Ben Mitchell)
Take it Easy My Brother Charlie – Jorge Ben (Fink feat. Tina Grace
Released : 29 October 2007
source: www.dustygroove.com & www.timewarpdis.com