by David Hellquist. Friday, 05 October 2007
Oxfam, Dalston: Thursday night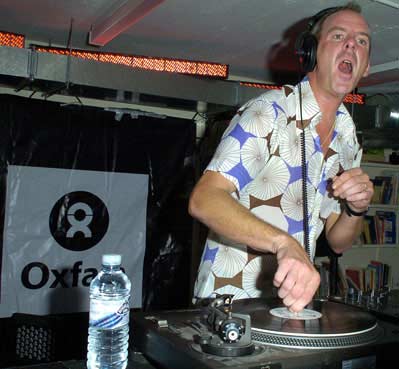 With a banana in his mouth and vinyl in his hand, superstar DJ Fatboy Slim last night climaxed the Oxjam Festival by bringing his Ibiza party to Dalston. The weather might be better on the disco island but Norman Cook easily adapted to the east London venue – the damp, dark and sweaty basement suited his bass heavy tunes perfect.
Barefoot and in his traditional Hawaiian shirt and camouflage shorts, the constantly smiling Cook basked in the strong neon lights and the crowd's devotion, rather than the sun.
The Funk Soul Brother left much of his own well-known material out of the set and concentrated on crowd-pleasers like Thriller by Michael Jackson and The Automatic's "Monster.
With his head down in crates of vinyl, Cook didn't say much – nothing actually – and let the music do the talking.
The crowd instantly responded to his Balearic language and, surrounded by vintage books, kicked off a rave.
At its best, the hour-and-half long DJ set evoked euphoric feelings among the audience but sometimes the intense heat proved too much, even for the happy hardcore fans.
Fatboy Slim is just as much a professional entertainer as a DJ, which he proved with his beach parties in Brighton, attracting more than 250,000 people one summer.
Last year's greatest hits record Why Try Harder? only confirmed his status as a institution in British dance music.
source: www.thelondonpaper.com