Fatboy Slim Talks "Eat, Sleep, Rave, Repeat" & The Future of EDM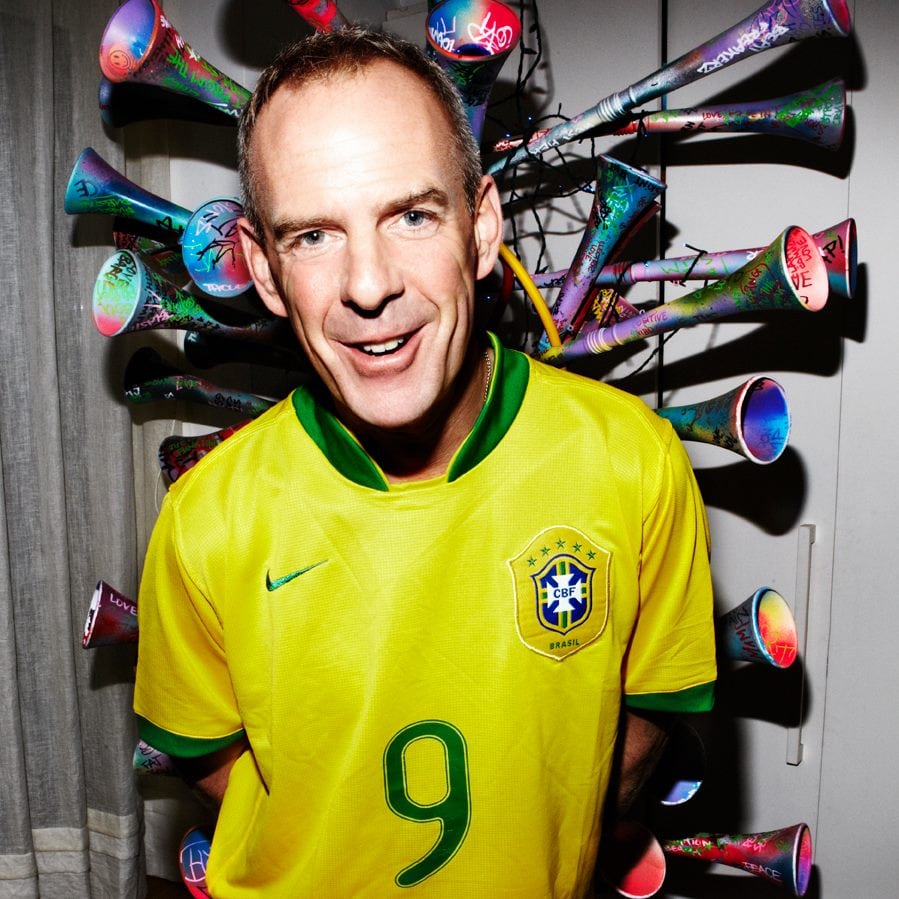 You could say that 2014 has been a banner year for Fatboy Slim. And that would be quite a statement, considering that the venerable DJ has been a mainstay in not only EDM, but the popular music world in general, for almost 2 decades. In April, he performed a legendary set at Coachella with an innovative and fun theme of "Heat, Sleet Rain, Repeat." Many attendees considered his set their favorite performance the whole weekend! Then in the summer, he released a special mix to coincide with the World Cup in Brazil. The album, Bem Brasil, proved that Fatboy Slim continues to be fresh and relevant.
Now he comes back to SoCal for another monstrous show with Nervo and Oliver Heldens. We got a chance to talk to him about all of these things and much more, including his thoughts on the future of EDM.
You can grab tickets to his show on Thursday, September 18th in Los Angeles at The Shrine Expo Hall here.
This Song Slaps: What kind of music did you listen to growing up? What was your favorite song and artist?
Fatboy Slim: My early years were all about the Beatles and Stevie Wonder, then at 14 I discovered punk rock! Then I heard 'I feel love' donna summer and thought 'this must be what being really high on drugs sounds like….'
TSS: Eat, Sleep, Rave, Repeat has been a monstrous hit, playing in a lot of festivals and sets this year. Having a huge hit introduces you to whole a new fan base that may have only started listening to EDM in the past couple of years. Do you feel like it reconnected you with a newer, younger audience?
FBS: Yes, indeed. Younger faces, same grins…… Another generation comes with some new noises but the same primeval desire to dance, smile and get laid remains constant through the generations. Also we have a new slogan to unite us!
TSS: Your Coachella set this year was an amazing experience. It was my first time at Coachella and your set blew me away. I was not expecting anything like that and it ended up being my favorite act of the whole festival. Can you tell me a little more about the production of "Heat, Sleet, Rain, Repeat" for that particular show and you work with Plastic Reality/Happiness Labs? How much input did you have in the production of that show at each step of the way?
FBS: I work closely with Bob Jaroc and Tim Fleming, my visuals crew. And not forgetting Stephen Abbiss, who does the lights (and for that matter, Mark Ward who runs production. They are good friends with a similar sense of drama and humour. We have a lot of fun making visuals and exploring production gags. Coachella wanted something special and initially wanted us to do the four seasons; winter, spring, summer and fall but we though that was a bit too pretentious and prog rock so we jazzed it up a little. The indoor rain curtain was a lot of planning but worked a treat! Snow in the desert? No problem…
TSS: With electronic music more popular than ever, it has also been getting a lot of attention from the media. How do you see EDM adapting to its newfound attention from the outside world? Do changes need to be made? And do you think it's reaching a pinnacle now and is set to deflate – or is it still rising?
FBS: I think the EDM industry right now is like an investment selling scheme based on a pyramid of oversized grey goose bottles. When one falls the whole lot will come down like a house of cards. Las Vegas will be littered with refugee dj's doing the washing up in casinos till they can afford their air fare home… Heaven help us all!
TSS: You did a big album in conjunction the World Cup in Brazil this year called Bem Brasil, but you have been involved with the English national football team for a long time. Can you tell us a little more about your connection to Brazil and football?
FBS: I have always enjoyed the moment where music and soccer can merge and I can indulge both my passions. It's called the World Cup and I have been the semi-official dj in Japan, South Africa and this year Brazil…going to games, playing parties on beaches and in stadiums. Brazil was a particular thrill because I work there a lot, they love their football and their dj's with equal passion..
TSS: With constant changes in EDM over the years, do you find yourself experimenting or itching to try new styles?
FBS: I kinda try to ignore the cliches of EDM, keep it rough and old skool rather than overproduced.. underground rather than pop. Viva acid house!
TSS: After all these years, what inspires you and keeps you motivated to keep touring and making music?
FBS: I'm not so inspired about making music these days but my undying love of playing tunes round the world that turn people on and make them smile and dance keeps me inspired, fresh and rejuvenated every night I play out. I would liken myself to a vampire keeping young and alive by drinking the blood of the young but what I think I actually do is absorb their second hand sweat. It has the same effect…
TSS: How has the scene changed and where do you see it going? And when did you realize dance music was here to stay?
FBS: Dance music was here to stay way before I got on the scene. From the West Indian shebeens in London in the 60's to Studio 54 we had already been doing this to a similar groove since before I was born. The technology has improved, the noises have evolved and it is not just a black/gay/druggy thing any more but it's the same old instinct to party, smile and dance.
TSS: You are well documented as being sober and giving up the crazy partying lifestyle. Lately there has been all kinds of issues being brought to the public's attention regarding EDM festivals and shows – drugs, overdoses, mosh pits – do you think the DJ, as the face of EDM, has any responsibility to act out or say something?
FBS: I don't think it is part of our job to set an example. I'm in no position to preach! All I would say is, "rave safe, kids."
TSS: Who do you see as the next breakout producer? Who are you really digging these days?
FBS: Gregor Salto is the bomb right now. He is doing some great stuff and I predict big things. Federico Scavo is also a big favourite of mine….
TSS: Any albums or mixes from you that are coming up that we should know about?
FBS: Word on the street is U2 are gonna give away a free album every week from now til Christmas…
TSS: Finally, we need to ask, because you have seen so many DJ's and producers come and go through the years: Advice to someone on opposite end just starting out?
FBS: always dj barefoot………………… (See picture)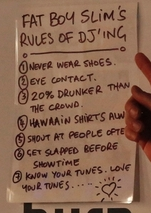 source: thissongslaps.com