Uneek Ibiza's (uneekibiza.com) Andrew and Carl interviewed Fatboy Slim at Creamfields in the UK on August 30th 2015. Fatboy spoke about Creamfields, his favourite gigs and his best ever nights out in Ibiza!Click below to listen to the interview in full on our Soundcloud page;

Or read below for the full written translation;

We're here at Creamfields where the legendry Fatboy Slim joins us, how are you doing?

I'm good thanks how are you doing?

Great thanks. We're really looking forward to your set here at Creamfields tonight, what can we expect?

It's quite stupid tonight, we have the Smile High Club which is the idea of making a very stupid club in the festival setting, so there's quite a lot of japery and tomfoolery going on. We did it last night at SW4 festival and it really worked, and if you can escape it not painted yellow with a big smiley on your face then you'll be doing well!

Haha, fantastic, we can't wait! We seen you a couple of weeks ago actually in Ibiza at Ibiza Rocks when you stepped in for Spandau Ballet, how was it for you?

That was an interesting gig! It was weird – my history with Andy and Dawn (Ibiza Rocks directors) is that they were the first people to put me on in Ibiza and I felt I owed them that, it wasn't what I would have chosen to do, but also, I have a lot of respect for Spandau Ballet. Rusty Egan was on the same bill, and when I was a 15 year old kid, Rusty Egan was my idol – the idea of a cool DJ who people had heard of and he was playing ground breaking electronic music, so those were the reason I said yes. When I got there I was like, "oh fuck – what am I going to play to Spandau Ballet fans?!" but I think I got away with it; there were the people down the front who had heard on social media that I was playing, and then there was the Spandau Ballet fans who I think I managed to bring all together by the end. When I dropped 'True' that was the he biggest cheer I think I've had all summer!

Fantastic! You've been going to Ibiza for many years, how is the island for you, have you seen it evolve over the years?

Yeah, it's evolved, it's devolved, it's revolved. There's enough going on that's constant in Ibiza, all of the different fashions – the money coming in, the drugs coming in, the different music and everything; it's still in that state of flux that's there's a lot of money being thrown in and a lot of EDM artists coming in – that sits alright in Ibiza, but it isn't really what Ibiza is all about. But when the bubble bursts on how big the EDM clubs can get, there will still be all of other clubs doing it. The only weird thing will be when Space goes, that might shake the island. When I first went to Ibiza, it was still in the golden age of Club Tropicana, Grace Jones and Freddie Mercury hanging out there with the rich and fashionable, then the English pill head hoards turned up, then the beer boys, and now it's returned to more money again, but the island just entertains whoever comes.

Definitely. And you met your wife there also, you have great history of the island. We seen you at Mambo last year and you had your son in the DJ box with you, is he a budding DJ?

He's not no, I thought after that he might of got the bug, but I think when he discovers cider and girls he might! At the moment his head is still stuck in a computer sadly!

You're playing the Cream Ibiza closing party this year, what can expect with that?

I've got some great shows before then, I'm playing Freddie Mercury's birthday at Pikes coming up, that's the next thing in my head after tonight. By the Cream Ibiza closing party EDM could of collapsed and we might all be playing Balkan folk music – it will be a closing party and it will be fun, it's always a pleasure to play for the Bartons.

In a nutshell, what is the best night in Ibiza you've ever had?

Probably going back to the Manumission days, there was a couple of summers at Manumission, one where they wheeled Zoe out in a birthday cake on my birthday. In those days we hadn't seen a club (Privilege) that big where there was so much lunacy going on. Kids today growing up with Tomorrowland and festivals like that, they expect big productions but in those days we hadn't seen anything like it, we walked in and were like, "oh my God, there's 8,000 people and people on stilts and it doesn't shut till 8 in the morning!" So yeah, I think the nights at Manumission, and the Carry On at Space, and the Carry Carry On at Bora Bora, they definitely make for the longest nights in my life, and possibly the best but I can probably only remember the first 24 hours.

You mention those gigs at Manumission, and have had legendry gigs across the world too, what are your favourite gigs of all time?

The ones on Brighton beach are very close to my heart as it's my home town. The ones in Brighton football stadium also, it's every boys dream to play at your own football stadium. They are the closest to my heart. Those, Ibiza and Glastonbury – I've some religious moments in all 3 of the above.

Brilliant, well we really appreciate your time and we look forward to your gig tonight!

Nice one, cheers!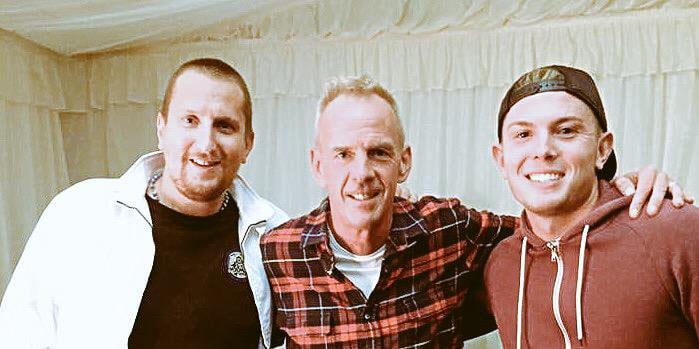 source: www.uneekibiza.com