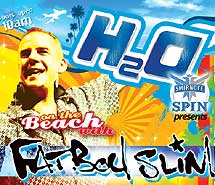 Superstar DJ and big-beat master Fatboy Slim is headed to South Africa in December 2007 with a box of records that he'll be spinning in Johannesburg and Cape Town.
The man born Norman Cook — behind hits like 'Praise You' and 'The Rockafeller Skank' — will be in the country courtesy of the "Coaching for Hope" initiative. The charity uses football to empower young people in the developing world by making them aware of the dangers of HIV and Aids.
Already active in Mali and Burkina Faso, "Coaching for Hope" is expanding its programme to South Africa ahead of the 2010 World Cup and Cook's visit coincides with International World Aids Day on 1 December.
On The Beach Party
On 2 December the gets down to his day (or is that night?) job as he sets to recreate his legendary Brighton beach parties with a set at H20's "On The Beach Party" at Wild Waters in Boksburg.
When he threw his second Big Beach Boutique in Brighton, England a few years ago, 250 000 turned up to party and his Big Beach bash in Rio last year drew Fatboy's biggest ever, single audience — a staggering 360 000.
Also on the bill at the Aids awareness fundraiser are international DJ Chris Lake and over 40 of SA's top names including Fresh, Roger Goode, Euphonik, Derek the Bandit and Ready D.
Doors open at 10am with action split across nine dancefloors. The Main Floor at the Wave Pool sees the likes of Goode, Derek the Bandit, Spiro, Dizzy and Fatboy (from 6pm to 8pm); the Funky Floor hosts names like Devon, Kevin Grenfell, Mark Stent, Fresh and Chris Lake (4pm to 6pm); the Deep Minimal Tech Floor features Cecil Mac, Guy Herman, Shaun Duvet and more; the VIP Floor has Majik Zee, Brands, Ricardo da Costa, Kirsti and others; the Hip-Hop Floor gets, amongst others, Shameless, Ready D and Sebastian; the Chilli Lounge is home to Cecil Mac, J_Hazzard, Roger D'lux, and Rob Taylor; and the Earth Floor has dance classics courtesy of Shawny B & Dizzy.
Tickets will be available two weeks prior to the event. Normal tickets cost R220 (presale) or R250 (at the door). VIP tickets (including the latest H2O DVD) will set you back R350 (presale) or R380 (at the door). Get them at Computicket or at selected outlets in Jozi and Pretoria.
For more info visit http://www.h2oparty.com
Fatboy Slim at Atmospheer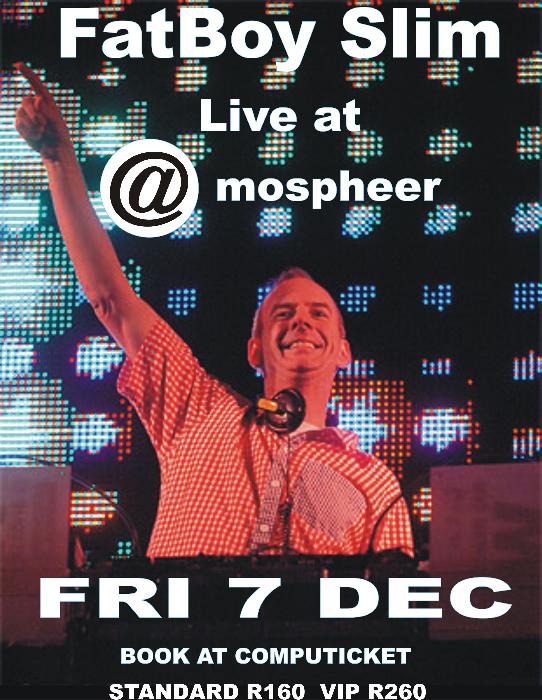 On 7 December the man who has sold more than four million albums in the US alone to become an undeniable part of the electronic dance music stratosphere, hits Cape Town club Atmospheer.
Phrases like "Right about now, funk soul brother", "Right here, right now", and "I've got to praise you" have all become part of the vernacular, while images of Christopher Walken dancing shimmying have become indelible images from his successful music videos.
Now see Fatboy Slim live behind the decks in the Mother City for a two hour set from midnight to 2am. Support acts have not yet been confirmed.
Doors open at 9pm.
Standard tickets cost R160 (presale) or R180 (door). VIP tickets cost R260 (presale) or R280 (door).
Atmospheer is situated in Castor Rd, Lansdowne (021 797 3108).
For more info visit http://www.atmospheer.com.
source: entertainment.iafrica.com