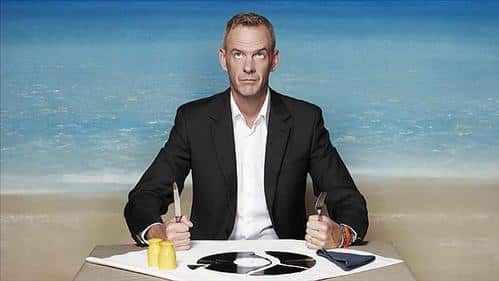 interview by Haris Suljovi?
Fatboy Slim is the legendary producer and DJ, who's career spans over the last 30 years. His music has always stood out, as his approach to producing and way of thinking.
The first Bosnian music web site got a chance to talk to him regarding his mentoring job at this year's burn Studios Residency in Ibiza, but we've also asked him some other interesting questions.
Special thanks goes to burn Bosnia and Herzegovina, for making this interview possible.

This is going to be a fun summer for you, as always I presume. So far you have five shows to do, and of course there's the burn Studios Residency. How did you get involved in this?
Fatboy Slim: Theyve just rang me up and asked me. Simple as that. It wasnt something that Ive especially heard of, but then Ive checked it out, and it looks like fun.
What are your expectations in respect of these new DJs, what do you think they'll bring to the table?
Fatboy Slim: I thought you were gonna ask me what I was gonna bring to the table. I dont know. Its kind of experience meets the young and the undisciplined. That was one of the reasons I was attracted to do it, was to meet DJs right at the beginnings of their career from a DJ whos well into his.
And what will you bring to the table?
Fatboy Slim: My experience. I havent planned formal lecture, more like words from a seasoned professional. Hopefully there will be a lot of interaction between us, rather then just me telling them: This how you do it or This how I did it.
Do you think it is much easier in this day & age to become a DJ or a musician with the help of YouTube, SoundCloud, MixCloud, or another streaming service? Or is it just as tough as before, since it seems as though that thriving DJ is unlikely to succeed without a label.
Fatboy Slim: I think youve kinda answered the question. Its more easy because you can have your stuff out there on the Internet, where before, youve played a gig in one city, and in the other, and it would take years for you to get around the world. And now potentially youre around the world instantly. But at the same time, because everybody has got access to that, and theres so many more people who want to become DJs at this day and age, I think its harder. Its the mechanism of being heard around the world is easier, but the number of people trying to get themselves heard is vastly increased.
You were once described as someone who makes electronic music for people who don't like to listen to electro. How important is to be different when making new music and is it possible to be different these days?
Fatboy Slim: Actually it was dance music, not electronic. I still think I make dance music for people who dont like dance music, but I think the current way of EDM is doing the same job, its very much aimed at the pop market, so its enticing new people in. Which is great. I feel kind of part of a movement of making dance music more accessible but at the same time slightly revolted how commercial it has got.
Since you've said you might be a producer in your supergroup. Last year you've worked with Rizzle Kicks, how did that collaboration happen, and do you have new collaborations plans any time soon?
Fatboy Slim. It just happened, because they come from the same time as me. They lived up the road and came up to me and said Would you like to make a record with us?. It was very much kind of a Brighton scene. Theyve kinds bullied me out of retirement, which was great fun, but like I said, my ear is cut for DJ-ing, at the moment Im not in the producing mode.
Last year you've said that you won't be making new records, because you want to spend time with your family, is that still the case or are we to expect a new record from your side?
Fatboy Slim: Its not so much wanting to spend time with my family, its all my DJ-ing gigs. Its just there's so much I want to do while Im still young enough and be out there and playing. Theres so many places I want to go and things I want to do. Its not my family getting in the way, its the DJ-ing
Then it should be fun, these next years for you.
Fatboy Slim: Yeah, Ive been having quite a lot of fun. Last year I did Olympics, did a huge show in Brighton. This year Ive been everywhere, from Brazil to House of Commons. So its fun, were always finding new things to do, and new places to play.
Let's get away from "serious topics", just for a second. You're not a stranger to different music genre's. Housemartins are never going to reunite, but if you could put together a supergroup right now, who would be in your band, and what would be your role in it?
Fatboy Slim: (Laughs) I would be the producer, rather than actually playing it. Id probably be the warm-up DJ before. One thing Ive learned through these years of experiencing different kinds of music, is what Im best in is DJ-ing rather than playing the guitar or the bass. So, I would have Flea from the Red Hot Chili Peppers on bass, Al Green on vocals. Do it have to be living people?
It does not have to be the case.
Fatboy Slim: Id have Daft Punk on vocoder, Nile Rogers on the guitar, and Roland TR-909 on drums.
Interesting. So Im guessing you like the new Daft Punk song?
Fatboy Slim: Yeah. I mean, Daft Punk are brilliant. Its a breath of fresh air. It all kinda beaten EDM, and for them to come back with something so deliciously old school, its very refreshing.
And simple, I can say.
Fatboy Slim: Yeah. A lot of electronic music has become so just bombarding you with big noises and big riffs. Its nice to go back to basics of a good honest disco records.
You've been a frequent guest in our region. You've played in Croatia, several times, you've been at the Exit Festival back in 2005, and you're coming back this year. Why is Exit so special to come back to?
Fatboy Slim: Its one of the great festivals. Its got a character. There are a lot of festivals that look like each other. Theyre a bit like shopping malls, or supermarkets. But there are certain festivals that have their own independent spirit and their own crazy crowds. One of the main reasons to come back to Exit is everywhere I go in the world somebody comes up who was there last time I played at the Exit. I dont know how many people must have been in the crowd but I must have met at least 20,000 people round the world from America to Australia, who went: I was there when you played Exit, it was fantastic.
What is going to be different about this year's show than the first one you did?
Fatboy Slim: I cant remember exactly the show that we had at that point. The show in general has got bigger and more visually oriented. When I was playing on turn tables we could never sync visuals with the music. But now Im playing audio files and video files at the same time, so Im almost like a VJ rather than a DJ.
We've reached the end of the interview, and I would like to ask you to send a message to all of you fans in Bosnia?
Fatboy Slim: Yeah. Hello Bosnia fans. Lets see if we could make this years Exit better than the last one.
source: muzickazona.bo