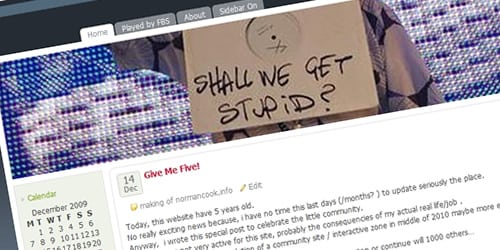 Today, this website have 5 years old.
No really exciting news because, i have no time this last days (/months? ) to update seriously the place.
Anyway, i wrote this special post to celebrate the little community.This year was not very active for this site, probably the consequencies of my actual real life/job .I think to purpose you an evolution of a community site / interactive zone in middle of 2010 maybe more early, maybe more later… i don't know.
It's amazing that this post is the 1000th! / perfect number to stop or continue will 1000 others…
I hope that in 2010,we will see new fatboyslim fan websites…
So for the moment, keep an eye on quiet & friendly FATboard…
Thanks for your support.

FND aka François.